On November 15th, students in the Culinary Academy hosted the first ever "Cookie Cravings" bake sale after school in front of the Little Theater. The cookies for this round of bake sales were produced by LAHCA students Jimmy Wilson '25, Isabella Eldik '25, Nicole Hammer '25, Tiana Pekar '25, and Christopher Maruyama '25.
We interviewed Culinary Academy teacher Mrs. Nafpliotis-Kresker (better known as Mrs. Naf.), and she had nothing but praise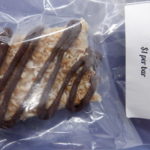 for the students who participated. Mrs. Naf said all the cookies in this round were fantastic and the variety showed the strengths of the students in the Culinary Academy. Mrs. Naf went on to elaborate, "We had cosmic brownie cookies filled with chocolate ganache, brownie bites with cream cheese filling, samoa copycats, chocolate chocolate chip cookies, and toffee chip cookies."
To prep for the big bake sale, some of the students mixed their specialty batter at home and then baked in school using the professional-grade ovens in the culinary lab. "We all helped package and clean up," said Mrs. Naf, "The students worked as a team."
The "Cookie Cravings" Bake Sales will take the place of the Cupcake Wars tradition this year. Cookies are easier to pre-bake than cupcakes, as the cookies can be packaged ahead of time. This cuts down on the chaos and stress of the 80 students decorating hundreds of cupcakes for Cupcake Wars in the culinary lab within 2 days of the event. In the future, Mrs. Naf hopes to reinstate the competition using cookies instead of cupcakes for the culinary showdown, "we would have had a competition all 80 students participating with about 3200 cookies."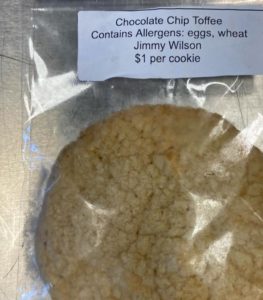 Jimmy Wilson '25 also enjoyed the cookie sales, "I think my favorite part of this experience was that everyone had different styles of cookies, so that was pretty cool. But, I did like cupcake wars better because it was like a whole day's event."
In total, the five juniors made over 300 cookies to sell. If you missed the first bake sale, a batch of cookies was frozen fresh and they are still available to purchase. Hot Tip: These individually bagged cookies freeze well for the holidays if you place them with their wrapper on in a freezer ziploc.
More LAHCA "Cookie Cravings" sales are on the way with new batches arriving soon. The next Cookie Cravings Bake Sales will be on Tuesday November 21 and Tuesday November 28 with funfetti cookies, magic bars, royal icing turkeys, and cinnamon roll cookies.