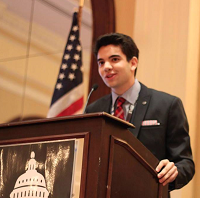 The day after Leonia High School's Homecoming, several students attended Junior State of America's Fall State. On Saturday morning, students from all grades came on the bus groggily after last night's celebration. As soon as we got to the Renaissance hotel, everyone in the Mid- Atlantic State left their bags in the baggage room and an opening session began. Coming from one of the biggest chapters and the governor's town, excitement and nervousness filled the air. After, we were all presented with schedules and we were free to sit through debates. 
I questioned a friend of mine, Bianka Lieber about her first-time experience. She told me that as a freshmen, the trip was really interesting and the learning experience helped her out. She said that she could hopefully attend the next one and that she wanted to continue doing this extracurricular throughout high school. Bianka added that she didn't speak during the debates, but she did have discussions about them with people next to her and afterwards. Her favorite memory of the weekend was spending time with her friends and learning.
I asked Mayuri Nagpal, a junior, about her second experience with the trip. Mayuri told me that her experience was good, but she thought that her first year was better. She said she met new people, while learning more about real-world issues. The highlight of her weekend was listening to the GOP mock debate and hanging out with her friends.
On Sunday, we all listened to more debates and ate food with our friends. The eventful weekend ended with a big group picture. Memories were made and good times were spent. Goodbyes were said to our new friends and knowledge was gained. Until next time Mid-Atlantic State, Leonia High School will miss you and many of us will be back for Winter Congress.