Celebrate the Holidays with LHS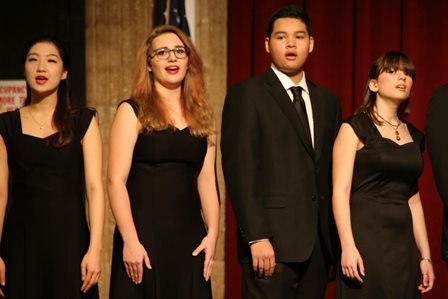 It's that time of the year again. Christmas time is near and sleigh bells are jing jing jingaling. To celebrate the holidays, the Leonia High School music department is performing in the annual Winter Concert. The concert band, men's choir, women's choir, general choir, chamber choir, and orchestra are all making appearances for the public's entertainment.
Concert band has been practicing on days end to bring to you the classical pieces of music. Hold onto your seats as they blow you away with epic winds in Proud Heritage. But that doesn't compare to the brass section in Song of the Bells. Luckily, you'll be soothed by the chimes in Greensleeves. And who can forget the classic, performed every year since the dawn of Mr. Silverman, Christmas Festival.  Andrea Guzman expresses her eagerness to attend the Winter Concert after hearing this year's concert band playlist.
Starting off with a Bleak Mid Winter, Women's choir will blow you away. Women's choir is spreading cheer with Joyful Joyful. Then stay close to your doors because Ding Dong Merrily On High is up next. They are also performing My Johnny's a Soldier, so take your caps off. Kaycee Armstrong says that this is a show the audience won't soon forget. 
General choir is performing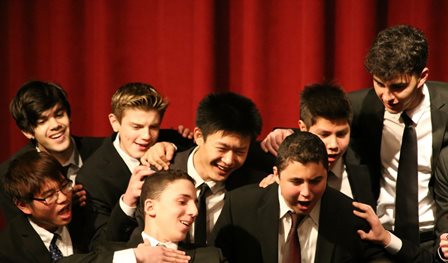 Gentle Annie. But just when you thought things couldn't get more exciting, they are closing with the crowd favorite, (drum roll please) Hallelujah.
Chamber choir is going to be a hoot. Santa Claus is Comin to Town, so listen up and be a good audience. Then prepare to be confused but in awe as they perform Dormi Dormi El Bambin. Then look up to the skies as they perform Black Bird. In a moment of silence, and to respect the victims in the recent Paris attacks, Chamber choir will be performing Imagine. Zara Zeigerman described the mood of the performance as "an emotional rollercoaster."
Men's choir is going to be wicked. They will be performing Finann Haddie. Then just when you thought Christmas was all green and red, they will perform Blue Christmas. Mattyar Alborzi, blessed with the voice of an angel, told me in a angelic voice, it is going to be an exciting performance. He also wished to keep the songs for orchestra a secret.