Every Thanksgiving millions of Americans travel for the holiday, and this year is certainly no exception with about 55.4 million expected to travel out of a population of 332 million, according to an article on ABC NY.
Many students at Leonia High School are heading to different parts of the tri-state area to visit with extended family.
Carson Wake '24, says he is going to upstate New York to spend Thanksgiving with his family. When asked what he most looked forward to for the holiday, Carson said, "Eating all the good food."
Sophomore Cyrille Arias says she is "going back to my family in Harlem." Cyrille is looking forward to the vibe of the city and says Leonia is so different, it will be nice to go home. Cyrille is also excited to see her aunt again.
Aylin Kulekci, another sophomore, is heading to Atlantic City to spend time with her family. She is most looking forward to "the turkey!"
Adam Ariola '25, is travelling to Connecticut with his family and is most looking forward to the food. However, he is less excited about "sitting in the car for three hours."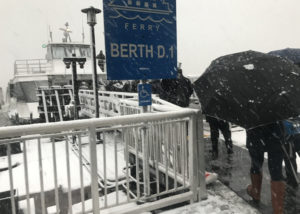 Ms. Grover, our school librarian will be going to her brother's house for the Thanksgiving holiday. Ms. Grover also says that "It's only four miles away, if I was ambitious I would even walk there" and she looks forward to being with her relatives for the day.
A few people in the Leonia High School Community are travelling a bit farther outside the area.
Sophomore Tristan Martinez '26 is headed to Ohio to spend the holiday with his family, but he is most looking forward to "leaving Ohio."
Latin teacher Dr. Massey is headed for Maryland to visit friends for Thanksgiving. However, he is not looking forward to the drive, which will be 5 hours there (and back), "and that's without traffic problems."
Lemon Akhtar '24 will be going to Houston "because my mom's entire side of the family is in Houston. Lemon is looking forward to "seeing family and eating food." As for the actual travel time, Lemon says "The flight is not bad and the time difference is only an hour […] I travel a lot so I'm used to being on flights."
For some lucky people at the high school, the party is coming to them.
Mr. Braden, a science teacher at LHS, says his family is travelling from Manhattan and Pittsburgh to spend the holiday with him. He is most looking forward to seeing his two grandsons as well as "waking up and having nothing to do but hang out with [his] family."
Junior Josh Kennedy's family is also making the trip to New Jersey and says, "We're bringing my grandmother to stay with us from the city."
Stephan Dickson '26 says his family is also hosting Thanksgiving, but is most looking forward to Black Friday and
stalking Best Buy, Target, and Amazon" for deals.
From all of us here at The Leonian, Happy Thanksgiving and safe travels!
Photo Credits: Sofia Baroni '26