2015-16 Lady Lions Tennis
Going back to school can be a challenging task, especially if you're one of the youngest in the building. Here at Leonia High School, freshmen are highly encouraged to participate in extracurricular activities, as it truly makes the transition from middle school to high school a breeze. This year, many freshmen girls joined the tennis team, a fall sport that touted to be very successful. Many did not expect warm, welcoming upperclassmen willing to aid them in improving their tennis skills nor being able to share a great bond with them.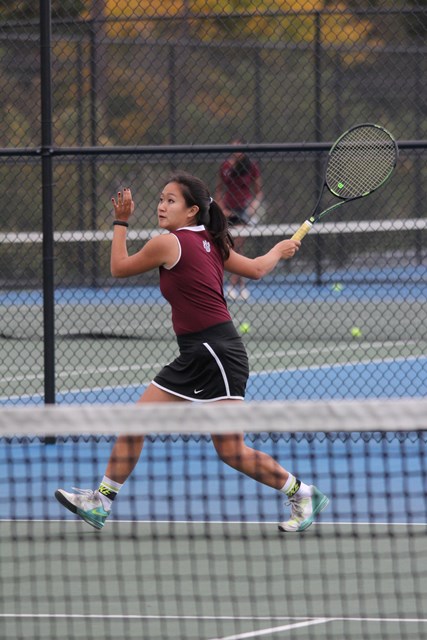 Sophie Aloi, a freshmen on junior varsity happily explained, "I was really attracted to tennis because it is a very strategic sport that helps you in every area of daily life." Recalling her first days on the team, Sophie went on, "Mr. Cullen was intimidating, but he ended up being really helpful. Personally, I think the best quality about the team is the excellent work ethic I see among the players, everyone is eager to lend a helping hand." Sophie also added that she wanted to help get the team to the state tournaments.
I asked team captain Elise Kim about the new crop of freshmen and she said she thought they were impressive, "The freshmen on the team are a good group, eager to improve and actually learn the sport. The dedication everyone has is amazing."
Elise is confident that the freshmen could one day lead the team, "[The] goal is to get the freshmen ready for their senior year and to keep the Lady Lions Legacy strong. I don't have a doubt that you guys will be ready to take the wheel by your senior year." Elise told me her own goals for her last year, "Personally I want to win a championship. It's my last year to play tennis competitively because I'm nowhere near good enough to play in college and I'd like to go out knowing my team won the championships. Overall though, I want to get the underclassmen into the sport because I fell in love with it and I'm sure others will too. I would like to be a good
role model for all ya'll cuties."
The last person I interviewed was Bianka Lieber, a freshman on the varsity team.
Bianka is proud to be playing on the varsity team as a freshman, "It's certainly different being the youngest on the team, everyone is already familiar with each other, whereas I am just meeting everyone for the first time. Overall, I think it is quite an honor to play singles, as well as being the only freshmen player on this year's varsity team." She believes that practicing with the upperclassmen is supportive, "Although I am a lot younger than some of the girls on the team, they really welcomed me to the team, disregarding my age completely. Practicing with the older girls is really beneficial because they are able to share their knowledge and experience."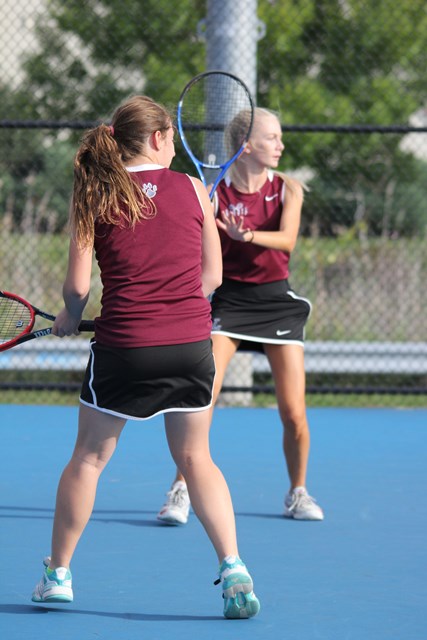 Bianka speaks highly of the tennis coaches, "The coaches are all truly inspiring. They push us to be the best tennis players we could possibly be. Additionally, they always share their words of wisdom to team members, making us both better athletes and students."
Clearly these responses show that the tennis team holds a strong bond and is thriving to succeed both academically and athletically. Being a freshmen on the Lady Lions tennis team is a great way to kickstart the 2015-2016 school year at Leonia High School. The team is filled to the brim with intelligent students who are motivated by their teammates, and excellent coaches who will lead them to success.